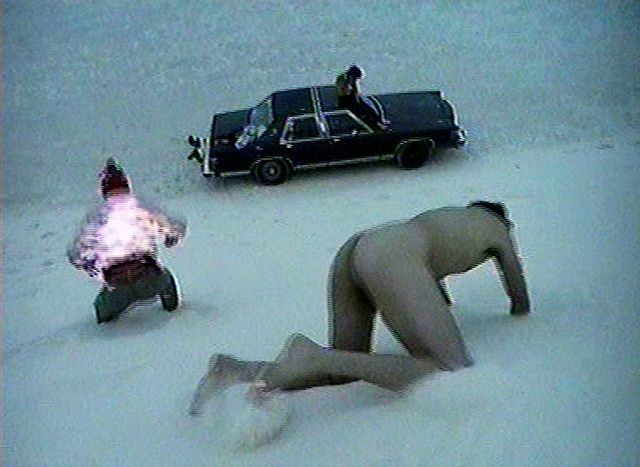 Gelatin's Grand Marquis
PRESS PLAY ▶ We've got the TV, plush armchairs, fridge, beer, DVD player. We present Gelatin's road trip from LA to Mexico City, 2002
Gelatin's plan was to decorate the car to acceptable gallery standards without spending any money. Using their wits and not their wallets, Gelatin created a wonder using what they had: a box of porno mags donated by Hustler, a ball of twine, a few budgies, bubblegum, honey and a hunky roll of blue tape.
DVD, 120 min, limited edition of 50 with original covers, published by Walther König, Cologne, 2002
---
PRESS PLAY ▶ is a series of video presentations at The Function Room.
---
Gelatin's GRAND MARQUIS
starring:
Zofia Maniak
Ilona Jensen
Marion Katrochwil
Dvoria Marmeladova
Brett Douglas
Nick Amato
Taco
Burrito
script:
Nick Amato
Dick Pursel
Wolfgang Capellari
voices of:
Maja Blasejewska
Sara Glaksia
Dame Darcy
Pandora
Gundula Huber
Michaela Meise
Paige Stevenson
The Bengala
Adolf Sandbichler
Anthony Auerbach
Lucien Samaha
Thomas Sandbichler
Johann König
Dean
love to:
Ford
ljudo.com
Brents Buckalew's Japanese for Anime Lovers
Hi-8
The People of Mexico
USA/Mexico © Gelatin 2002