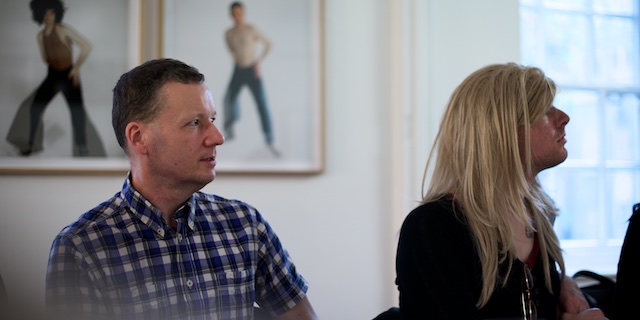 Role-Play: Work, Play
Role-Play: Work, Play is a project initiated by Dunya Kalantery at The Function Room exploring the function of role-play in every day life, and the pleasures and potential of drag. The project took the form of a series of reading group and workshops sessions over the summer of 2014, and continues with sporadic events engaging with exhibitions at The Function Room, such as Anča Daučíková's 33 Scenes and Stewart Home's and Chris Dorley-Brown's The Age of Anti-Ageing.
---
Next event
Thursday 13 November 2014, 5.30-7.30pm: Do you have time after work? Discussion with Dunya Kalantery and Anthony Auerbach on work, play and performance. In connection with the exhibition 4 Works by Anthony Auerbach and Role-Play: Work, Play initiated by Dunya Kalantery.
---
Come As Your Mum
Sunday lunch on the occasion of the exhibition The Age of Anti-Ageing by Stewart Home and Chris Dorley-Brown with exhibition intro by Stewart Home (pictured above). Come as your mum by way of some attitude, attire or manner, take on the mantle and explore becoming (m)other over a 3-course lunch cooked by Nick Watts (ex Dinner by Heston) and Jack Dobbie (ex Upstairs at The Ten Bells).
---
Summer Reading Group 2014: Role-play: Work, Play
Responding to contemporary pressures to be professionally present and socially correct, the Summer Reading Group brought together a group of artists, enthusiasts, practitioners, and professionals with a syllabus of readings. Over a period of 4 months, guiding terms of interest were: the roles we play; role-play; work; play; professionalism; uniform; absurdism; revolt; futility; avatars.
Syllabus:
1: The Myth of Sisyphus, Albert Camus.
2: Youth Mode: A Report on Freedom, K-Hole.
3: Testo Junkie Sex, Drugs and Biopolitics in the Pharmacopornographic Era, Beatriz Preciado.
4: Notes on "Camp", Susan Sontag.
5: In conjunction with The Worm and Other Objects by Louise Ashcroft Our Aesthetic Categories: Interesting, Zany, Cute, Sianne Ngai. Special Guest: Louise Ashcroft.
6: In conjunction with 33 Scenes by Anča Daučíková. Special Guest: Anča Daučíková.
---
Role, Play workshops 2014
A series of workshops facilitated in collaboration with physical theatre practitioner Helena Rice. The workshops engaged with physical theatre practices of gesture and movement, ideas of drag, and discussions around social and professional role-play. They were open to performers and non-performers.
---